Since it's founding in 2009, Life Stone has quickly set the standard for excellence in mental health treatment throughout Utah state. We offer a wide array of skilled and experienced therapists, nurse practitioners and physicians that specialize in a variety of mental health issues including psychotherapy, medication management and ketamine infusion therapy.

Life Stone Counseling Centers has become a national hub for
Eye Movement Desensitization and Reprocessing (EMDR)
therapy, as we offer innovative EMDR techniques and provide
consultations
and
advanced trainings
to clinicians throughout the country.
We are also the mental health "go-to"expert in the
Media
for locally and nationally. You can see regular appearances from our therapists on Fox 13's The PLACE, KSL.com and Goodtherapy.com, as well as on National TV Shows and other outlets. Check us out
In The Media
.
Life Stone strives to improve mental health and strengthen family relationships by providing competent and compassionate
mental health treatment
for individuals, couples and families.
Life Stone offers a warm, relaxing atmosphere. We encourage clients to enjoy a hot or cold beverage, complimentary WiFi, current reading material and family friendly entertainment during the short time in our waiting area.

Individual and family therapy rooms are designed to make you feel at home and comfortable, so there is no distraction when meeting with your clinician. In fact, rooms are tailored to each individual client (child, adolescent or adult) and are equipped with state-of-the-art EMDR and Neurofeedback equipment, Ketamine Infusion equipment, as well as many other therapy tools customized to aid your success.

Our goal is to always provide a safe, inspiring environment where individuals can comfortably nurture their inner-self and overcome life's challenges.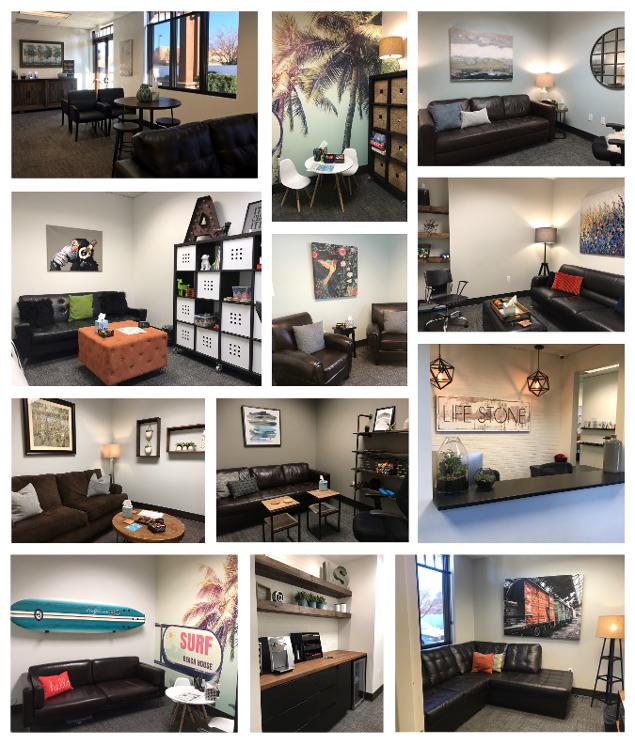 At Life Stone, we believe in providing the best clinical services available and exceeding client's expectations.

We believe in improving the quality of life for individuals and families, by helping people to make positive changes in their lives and empowering them to make healthy and effective choices.

We are committed to best practices, partnerships and outcomes. Each therapist individualizes treatment plans for each client. We believe that each client is truly unique. Each client can expect to be treated with respect, dignity and compassion.

Life Stone hopes that all that are seeking help can find happiness and gain self-respect through our commitment to helping others.

SALT LAKE COUNTY
613 E. Ft Union Blvd #104
Midvale, UT 84047
Phone: (801) 984-1717

Fax: (801) 984-1720
UTAH COUNTY
150 S. 400 E.
American Fork, UT 84003
Phone: (801) 980-7222
Fax: (801) 980-7223
© 2018 Life Stone Group, LLC All Rights Reserved.
Insurance Billing Dept:

(801) 296-2113

Mailing Address:
613 E. Ft Union Blvd #104
Midvale, UT 84047